wood work and joinery
At G.G.F we carry out all manor of repairs and refits to wooden vessels including :
Re-planking

caulking

re-fastening

painting & varnishing

replacing rotten structural timber such as deadwoods , stems ,hogs ,transoms and general restoration

re-decking

raking out seams and re-caulking with appropiate medium (pitch,polysulphide,synthetic rubber

renovation of metal / bronze work and skin fittings

re-fitting windows and ports

replacing corroded or rotten frames and floors

General repair work to bespoke joinery
Replacement of teak on a bathing platform
As you can see by the photos, the teak was clearly past repair with sections starting to peel off, therefore there was no other option but to remove the teak and the epoxy bonding and replace with new.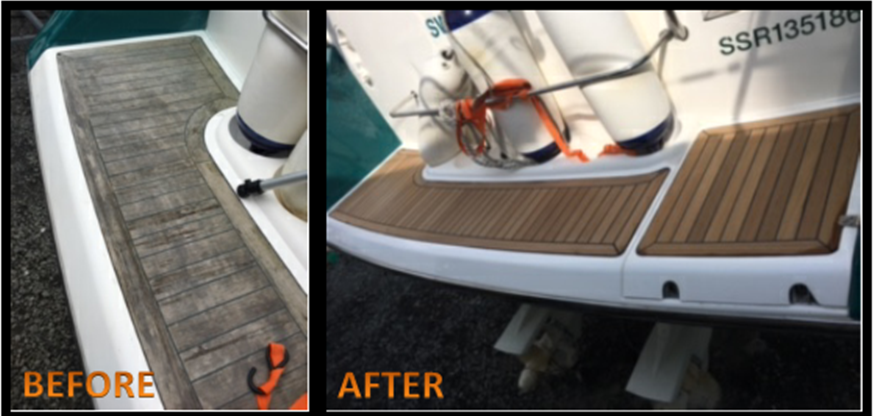 This cabin was Bespokely designed and built by G.G.F to look authentic and original and yet be practical and cost effective.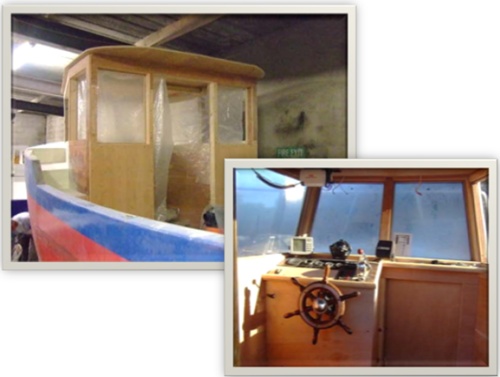 This old life boat had to be totally gutted and have new floor and engine bearers installed. These were all custom made by our team at G.G.F and were made of solid oak. Next they were fibre glassed and gel coated over for durability and prevent them from rotting .
Here is a set of solid hardwood lockable doors with toughened glass windows set into the door . These were made for a falkland fisher offshore 600 which went to the Isle of Skye. Distance is no object as G.G.F are site work specialists. We also have a custom built workshop with lifting facilities for projects to be undertaken in the correct environment.